Valarie Olsen, MA, LMHC, E-RYT200, AYS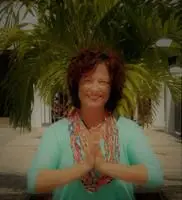 Valarie Olsen is a Licensed Mental Health Counselor with over 18 years of experience working with families in Lee County, Florida. Valarie has worked extensively in the fields of trauma, child abuse and neglect, domestic violence and parenting issues. She specializes in stress and anger management, parenting and child development, loss and grief, life transitions and experiences of trauma, including PTSD, anxiety and depression.
She has taught yoga alongside her full time employment with the intention of combining the aspects of yoga with western psychology and mental health counseling. Valarie works with clients using the wisdom traditions of both eastern (Yoga, Mindfulness and Ayurveda) and western (such as Cognitive Behavioral Therapy, Solution Focused) approaches to health and well-being. Her approach is one of wellness and compassion, keeping the focus on the counseling relationship and encouraging clients to tap into their own inner wisdom and ability to heal.
Education
Valarie is a long time resident of Southwest Florida, attending both high school and college locally. Valarie attended Edison Community College, the University of South Florida and Florida Gulf Coast University, earning a Bachelor's degree in Human Services and a Master's Degree in Mental Health Counseling. She spent the majority of her career working in the field of child welfare at a local non-profit agency that specialized in the treatment and prevention of child abuse. Valarie was licensed as a Mental Health Counselor in 2012.
Licenses, Certifications
Valarie is a Licensed Mental Health Counselor in the State of Florida and is a Certified Clinical Telemental Health Provider. She is also a Qualified Clinical Supervisor and a Wellness Coach. As a Registered Yoga Teacher through the Yoga Alliance, Valarie has been trained in Trauma Sensitive Yoga that she uses as an adjunct to traditional therapy. Valarie is an Ayurvedic Yoga Specialist through the National Ayurvedic Medical Association (NAMA) and is certified in the Three Wisdom Traditions through the Himilayan Institute. She is a Certified Meditation Teacher. Valarie has extensive education in the areas of domestic violence, grief, yoga, child development, mindfulness, substance abuse, child abuse/neglect, trauma, anxiety, depression and parenting skills.
Professional Activities
Valarie served as a Preschool Teacher and a Substitute Teacher in the local Lee County School District from 1993 - 2000. She served as an educator and therapist at the Children's Advocacy Center of Southwest Florida from 2000 - 2017 where she served as the Assistant Clinical Director for four years. Valarie has taught yoga classes at Yoga Bird in Fort Myers since 2013 and at Gateway Yoga since early, 2018.
Memberships
Valarie is a member of the Florida Mental Health Counselors' Association (FMHCA). She is a member of the Yoga Service Council, and of Yoga International.
Giving Back
Valarie volunteers to provide free yoga classes to United States Veterans and their spouses in Southwest Florida.
Personal
Valarie is a long time resident of Southwest Florida, attending both high school and college locally. She and her husband raised four children in Fort Myers. Valarie loves to spend time with her family, especially her grandchildren. She enjoys reading, practicing yoga, walking, swimming, gardening and taking jazzercise classes. She is a student of the arts, has an eye for color, attends music concerts regularly and adds to a bucket list of travel destinations almost daily. As a self-described "workshop geek and lifelong learner", you may find her browsing the non-fiction aisles at the public library, at a concert, traveling or attending counseling or yoga workshops on the weekends.
Click here to schedule an appointment