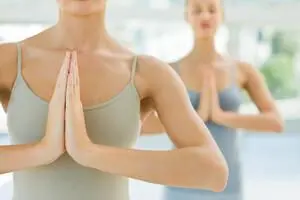 Have you been wanting to learn about yoga? If attending classes at a studio is intimidating for you as a beginner or if you'd like to fine tune your existing practice, come in for a visit with us to learn about yoga postures and philosophy in a private consultation. We can work together to get you started and feeling comfortable with practicing yoga.
Stacey and Valarie have each been practicing yoga for many years and are Registered Yoga Teachers (RYT200). Let us help you to learn about the practice and shift your life toward wellness.
Yoga offers not only physical wellness by creating flexibility, strength and stamina, but yoga also offers peace by training your mind to be still, to focus on one thing at a time and to help enhance your intuition by helping you listen to your mind and body connection. Yoga practice has been backed by science as a strategy to help reduce the symptoms of anxiety, PTSD, depression and ADHD.
If you'd like to have a private consultation, you may schedule an initial yoga consultation here. Our first meeting will be an initial assessment to help us understand your goals and to help you understand some basic information about yoga practice. We will schedule your individualized yoga lessons in the office together after our initial meeting.